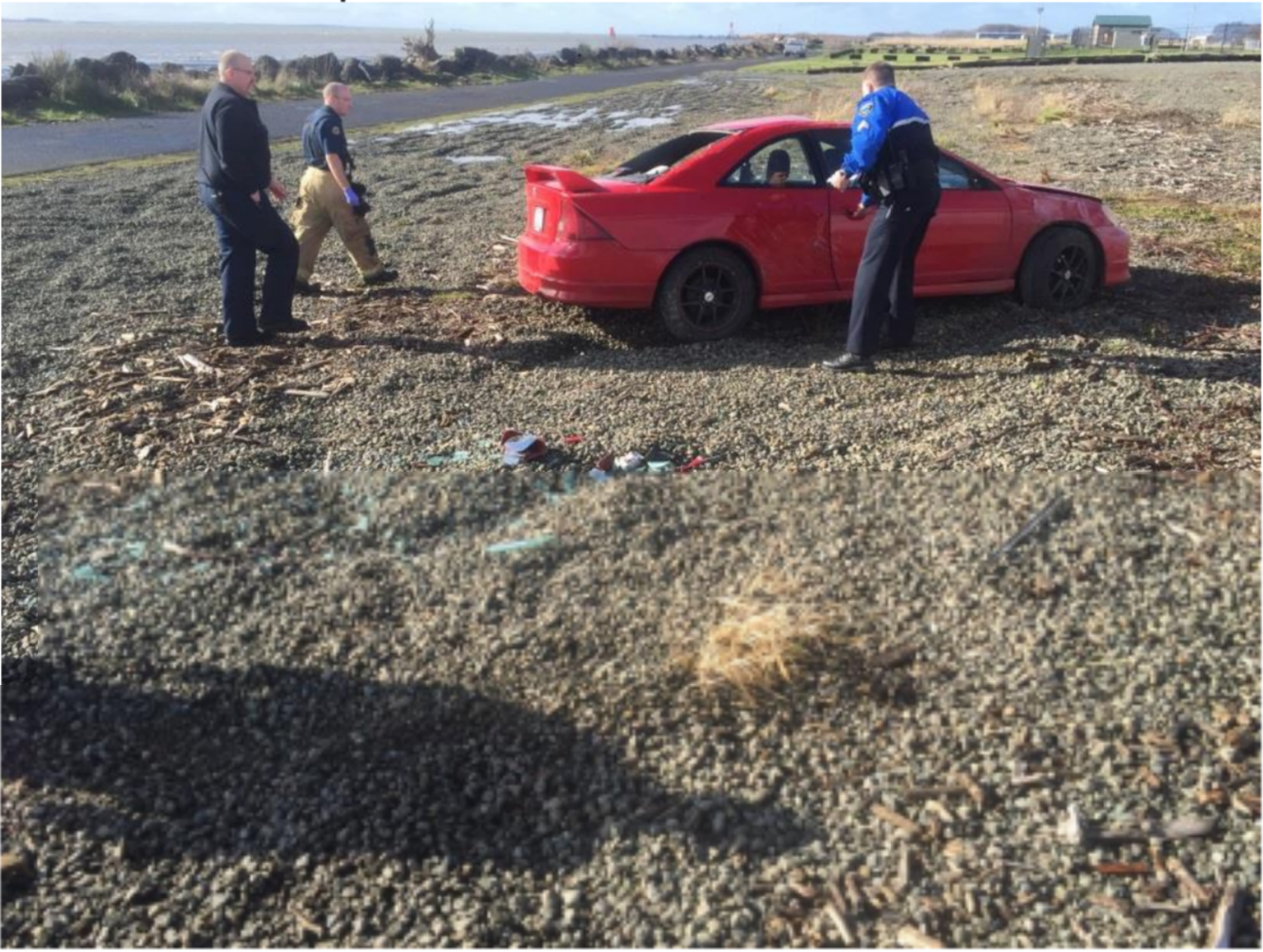 Hoquiam Police Chief Myers says that several Hoquiam High School students were fortunate to avoid serious injury in a rollover accident that took place during high school lunch on Thursday, January 25th.
At 1206 hours on Thursday, January 25, 2018, Hoquiam Police and Fire were dispatched to one vehicle roll-over, injury collision in the area of the Hoquiam airport.
Responding units located the vehicle, a red 2002 Honda Civic, in the 1000 block of Moon Island Road.
The investigation determined the 16-year old driver, who only had his driver's license for one week, was driving west on Moon Island Road at a high rate of speed when the vehicle traversed a large, deep puddle. The vehicle apparently began to hydroplane and fishtail for over 300 feet before rotating off the road to the right. As the vehicle entered the deep gravel, the car rolled before coming to rest back on it wheels.
The vehicle suffered extensive contact damage and was likely totaled in the collision. In addition to the 16-year old Hoquiam driver, there were four passengers in the car, two age 16 and two age 17. All of the youth were apparently at lunch from Hoquiam High School when the driver decided to "mess around" and drove down Moon Island Road at a high rate, which witnesses estimated at 40-60 mph. It was fortunate the occupants only suffered minor cuts and bruises in the roll-over impact. There were checked at the scene by Hoquiam ambulance and later transported for medical care by parents.
The 16-year old driver was not only in violation of his intermediate driver's license restriction (no passengers under age 20), but he was also charged with Reckless Driving. The vehicle was impounded.