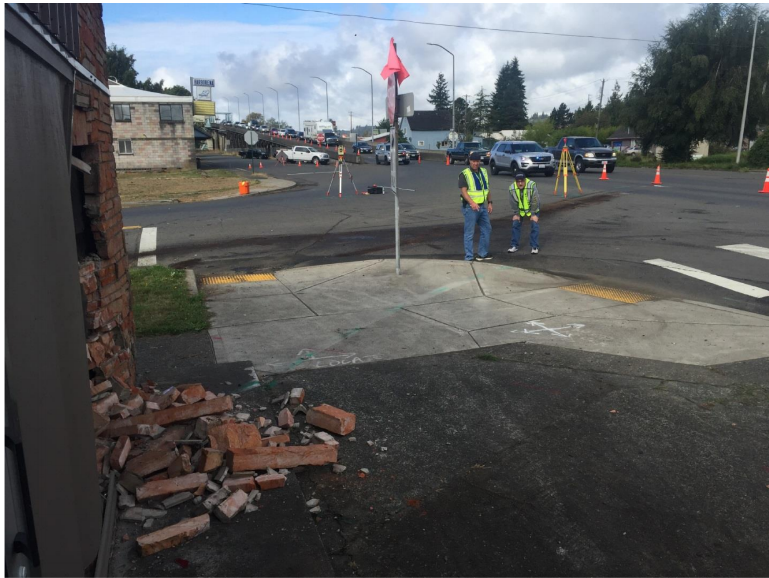 We have more on that early morning accident in Hoquiam that sent 3 to Community Hospital for their injuries. This update comes from The Hoquiam Police Chief Jeff Myers.
Hoquiam officers were dispatched to a two-vehicle, injury collision at 22nd Street and Simpson Avenue in the early morning hours of Saturday, September 23, 2017, at 0032 hours. This is the intersection at the east end of the Simpson Ave Bridge.
Upon the arrival of officers, they located a red, 2014 Toyota Corolla sedan with extensive damage at rest in front of the building off the southeast side of the intersection. The other vehicle, a gray 2003 Audi sedan was located in a small parking area near the alley behind the same building.
The preliminary investigation indicated the 19-year old Hoquiam driver of the Audi had just left a residence on Cherry Street. Friends had apparently attempted to stop him from driving as he was intoxicated.
The driver was observed driving away at a high rate of speed while swerving. It would appear he failed to stop at the stop sign on 22nd Street, whereby he collided with the Toyota in the middle of the intersection on Simpson Avenue.
The force of the collision sent the Toyota careening into the corner of the building before it came to rest on the front porch area. The Audi rotated after the impact and traveled backwards, just missing the building, before jumping a curb and coming to rest in the back parking area against a fence and concrete edge.
The driver and two passengers of the Toyota had to be extricated from the vehicle by the Hoquiam Fire Department. All three were transported to Community Hospital for injuries suffered in the impact.
The driver of the Audi was located at the scene. He told officers he had just left a friend's house and when he hit the other car, he panicked and ran off. He said he then decided it was best to return to the scene.
Officers conducted field sobriety tests and determined the 19-year old driver of the Audi was intoxicated. He was arrested and transported to the Hoquiam Police Department for additional tests before being booked into the City Jail pending further investigation.
During daylight hours of the morning, the Hoquiam Police Department's Crime Scene Mapping Team was called out to measure the scene. As one of the passengers in the Toyota was undergoing surgery at Community Hospital this morning, subsequent charges will be dependent on the extent of injuries.