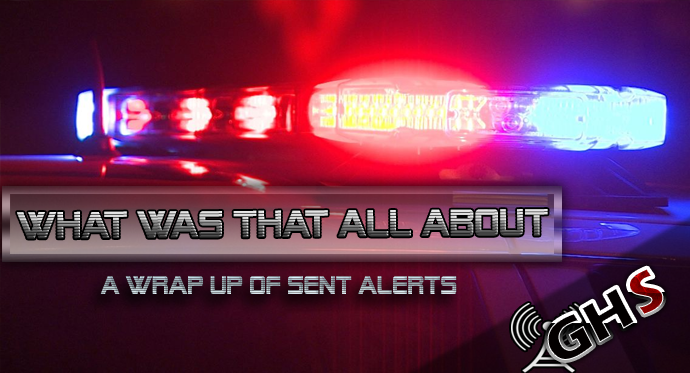 This is a GHScanner What was that all about – a wrap up of alerts that were sent to our GHScanner Facebook and GHScanner App Alerts Subscribers along with alerts that were posted to the public on Facebook.
March 12th, 2023
Aberdeen, officers and ems responding to an unknown if injury collision 900 block Fordney st, single vehicle into the ditch on its side. 1115AM
Elma, report of a single vehicle off the roadway 100 block of Edgewood avenue. 755pm
March 12th, 2023
Westport, fire being dispatched to a possible structure fire @ Sea Bird Gifts 2563 Westhaven Dr report of smoke coming from the back side of the building. 947AM
Report of a collision, unknown injury Ocean Beach RD at Powell RD - Single vehicle off the roadway. 955AM
Grayland, report of a possible vehicle vs pedestrian collision SR 105 at Cranberry RD. 1248PM This was not a vehicle versus pedestrian collision but a mental health issue with a person laying in the middle of the roadway.
Moclips - Shooting - report of a shooting 208 Mill off of Otis Ave. Victim shot 2 times in the chest. Suspect fled on foot. Multiple agencies responding, asking for drone response for the search. 2:00PM
Aberdeen, report of a vehicle Pedestrian collision, Monsters Mocha 900 block E Wishkah. 250pm